Cathedral Bowl, Cathedral Garden and Mount of Olives
Cathedral Bowl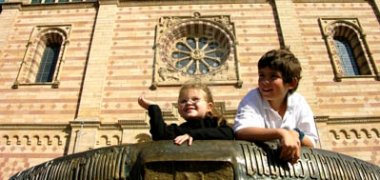 Since its construction in the 14th century, it played a significant role in the execution of a prison sentence: whoever had broken a state law and fled to the cathedral bowl was protected from prosecution.
It has been a long time since the cathedral bowl fulfilled these historical functions. But a beloved Middle Age custom continues to be observed in modern times. On special religious occasions, the cathedral bowl is filled with wine. With a capacity of over 1500 liters, many citizens and guests are thereby able to enjoy a taste of the juice of the grape. This occurred most recently at the 950-year anniversary of the dedication of the Cathedral of Speyer on October 2, 2011.
Cathedral Garden
During the restoration in the 19th century, the idea was to provide the cathedral with a large open area. That is why the cloister that had been destroyed in 1689 was never rebuilt and was replaced in 1821 with the cathedral garden.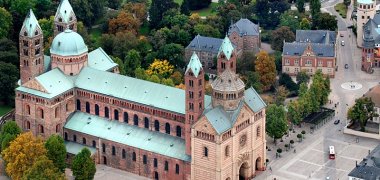 The Mount of Olives lies in its southern portion. It is a group of figures in stone that portray the biblical event that took place on the Mount of Olives in Jerusalem. It represented in earlier times the centre of the Cathedral cloister and was destroyed with it. In the 19th century, the Speyer sculptor, Gottfried Renn created the figures that we see today.
The hall of antiques of 1826 has, since 1930, been a war memorial. Visitors will also find a bronze bust of Friedrich Magnus Schwerd who, in the 19th century, worked as a teacher in the Imperial Cathedral's secondary school and achieved great scientific accomplishments in astronomy and physics. Four groupings of figures of the Salian emperors stem from the 1930s. A two story stone tower of the city wall flanked by two round stair towers, the so-called "Heidentürmchen" dates from the late 13th century.
Mount of Olives
In the southern part of the cathedral gardens lies the Mount of Olives, previously the centerpoint of the Cathedral's cloister. During the 19th century, the Speyer sculptor, Gottfried Renn created the array of figures seen here today. The original 15th century sculpture that had been here was mostly destroyed and eventually replaced with Renn's figures.