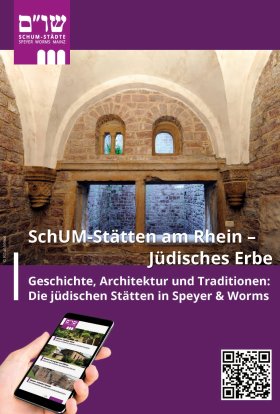 The eventful past of the SchUM cities can be experienced by young and old alike in the SchUM app. Telling stories is an age-old cultural technique and that is how this app revives the past.
Bringing Jewish heritage to life — this is the goal that the storytelling app of the SchUM cities sets for itself. Rebecca, David and Simcha take the listener on an exciting trip through  Speyer's Jewish Courtyard. They then go to Worms where they meet Abel, Anton and Mayan.
With the SchUM app, one experiences the monuments in the Jewish Courtyard in Speyer as well as the environs of the synagogue along with the old Jewish cemetery, "Holy Sands" in Worms. The characters accompany the listeners into the past and provide a lot of  new insights into Jewish history and culture. They also provide interesting information on important monuments. In so doing, the App strongly emphasizes experience-oriented communication which is how the characters are able to maintain a lively cultural discussion. In a thought-provoking debate on the role of women, the reaction of the Jewish community to the Crusades and the special architecture in Speyer's Jewish courtyard, various perspectives — traditional, orthodox, liberal — are opened onto Judaism. Playful and instructive content is complemented by witty and moving moments. The story can be read or listened to and is available in both German and English languages.
The Storytelling App, "SchUM-Stätten" emerged from the cooperation of the SchUM-Städte e.V. with the Interdisziplinären Zentrum für digitales Erlebnisdesign der Fachbereiche Touristik / Verkehrswesen und Informatik der Hochschule Worms*. Participants were the City of Speyer, various municipal establishments, the city archives of Speyer and Worms, Sound Studio Herzer and as narrator, the actress Pius Maria Cüppers. Our thanks also goes to the Vorderpfalz Savings Bank for its sponsorship.
The App is available either here or at the Google / Apple Play Store. 
* The Interdisciplinary Center for Digital Experiential Design of the Departments of Tourism/Transportation and Informatics at the College of Worms.