Cultural Courtyard ("Kulturhof") on the Flachsgasse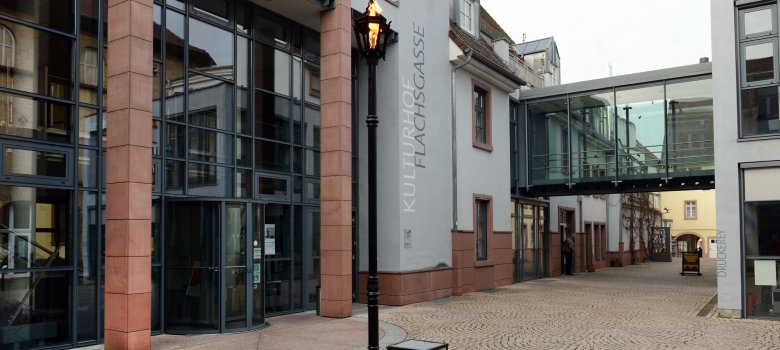 In June of 2001, the City of Speyer opened the Cultural Courtyard on the Flachsgasse with its exhibition space of 7,500 ft2. Located right next to City Hall, in the shadow of the Speyer Cathedral World Heritage Site, and in close proximity to the Jewish Courtyard, it provides the Speyer Art Association and the Municipal Gallery (with its exhibition schedule) a new, modern and attractive home.

Besides storage space, office space and room for traffic, the Art Association has about 3,200 ft2 and the Municipal Gallery 4,300 ft2 available for exhibitions. The generously glass-walled main lobby with its glass-enclosed elevator, the public gallery and the smaller lobby on the second floor are all being used jointly by the Art Association and the city. Their comprehensive collections are further enhanced by the Corner Print Shop with its typographical display.
Altogether, about 20 exhibition projects can be presented annually in all three of the Cultural Courtyard on the Flachsgasse's domains. Thankfully, both three-dimensional as well as thematic cooperative exhibitions can be set up again and again,. In this way, the Art Association and the City both make contributions to the special cultural diversity that characterizes Speyer.
The current semiannual program of the Municipal Gallery, Art Association and Corner Print Shop can be found here. Open hours are, as a rule, from Thursday until Sunday from 11:00 am until 6:00 pm.

The Cultural Courtyard on the Flachsgasse was evaluated by a certified appraiser on December 28, 2016 and designated by the inspection authority to be "Certified Free of Barriers". The abridged report can be found here.
The Cultural Courtyard on the Flachsgasse also houses the "Room Theater" (Zimmertheater), Speyer's beloved cabaret stage.