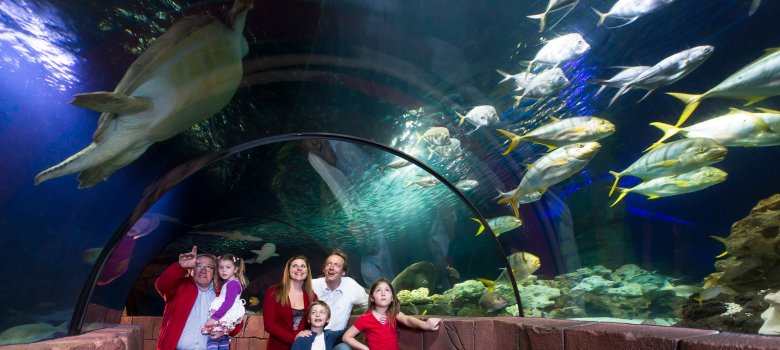 Your journey begins at the source of the Rhine, and follows its course to the estuary into the North Sea. Passing moray eels, rays, and sharks, you continue through to the Mediterranean and end up in the tropical ocean with the eight-meter-long underwater tunnel. On the way, unique creatures are waiting for you: delicate seahorses, the curious octopus, starfish, colorful clown fish, many different species of skates, and Marty, the playful Green Turtle! Our largest tank is the tropical ocean which houses 320,000 liters of water. At the touch pool, young and old explorers can experience how starfish and anemones feel. Visitor guides explain in detail the peculiarities of these small sea creatures and help guests better understand them. Thanks to the varied and diverse tank design, all visitors can forget time in this underwater world. A sandy bottom for our skates and toys for our clever octopus, all this is arranged by our experienced aquarists who check the needs of the animals on a daily basis. Starting at 11 AM, there are many exciting feedings where visitors can learn about the individual animals and at 4 PM all children are invited to join and feed the fishes themselves!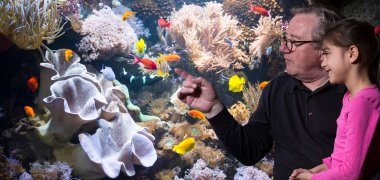 Yearly changing exhibitions allow special emphasis to be put on certain animals. Starting Easter this year, the exhibition "Starfish Bay" is on display. Children are the focus here by offering popup tanks where they can study the starfish from all angels and unique interactive exploration stations.
At the various tanks, our visitor guides tell exciting facts and their passion for the underwater world is easily perceived. They will let no question go unanswered, allowing for a wide array of information sharing. Teachers and school classes can also opt for a guided tour with accompanying teaching materials.

There are also regular special events. From a fish inventory to the summer pirate event, the SEA LIFE Speyer has much to offer throughout the year for all ages.