Emperor's Hall and Observation Platform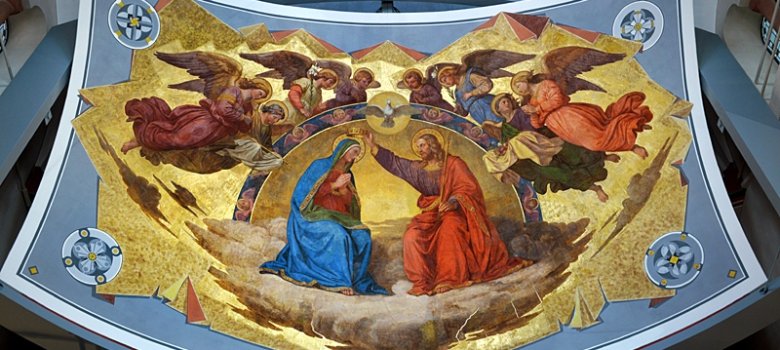 In the nave of the Cathedral, only the 24-part Mary cycle remains. The exhibition shows four frescoes out of the Bernard cycle, four out of the Stephanus cycle and Mary's crowning. The latter had been installed in the apse of the choir until 1957. To accommodate it, a cupola was constructed for it in the Emperor's Hall, modeled after the arch in the apse. The frescoes were refurbished by the restorer, Vitus Wurmdobler in the 1980s.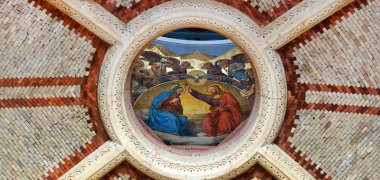 Because of the permanent exhibition of the Schraudolph frescoes, the Emperor's Hall has acquired a definitive image for the first time. The plans to reconfigure the room with its three bays were drawn up by Mario Colletto, who became the successor to Alfred Klimt as Cathedral Architect in January 2013. The frescoes, which extend up to 22 feet, will be shown on standing picture easels with supports made of wood.
A glass door to the gallery opens up the view into the interior of the Cathedral for the visitor. The bell hole in the floor that has been covered with a glass plate makes it possible to see into the narthex of the cathedral. In order to achieve even room lighting, the glass elements of the rosetta and of the remaining windows were replaced with hand-blown panes coated with black stain. The Emperor's Hall stretches across the entire width of the western part of the building and offers room for 200 persons. It has a surface area of a scant 5300 square feet and a ceiling height of 82 feet.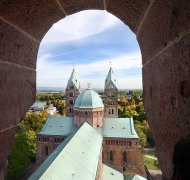 A total of 304 steps lead on the west side of the Cathedral from the entrance to the south tower to the newly created observation platform at a height of about 200 feet. This provides a unique panoramic view over the city of Speyer, the anterior Palatinate and neighbouring Baden. On days with good visibility, one can see for a distance of more than 30 miles. For the climb to the observation platform, a new concrete staircase was built into the tower. It transforms into a steel staircase along the way up. The open observation platform below the spire offers room for about 50 persons on its 215 square foot surface. For reasons of safety, visitors will be led to the platform in groups by a tower guide. Each viewing lasts about one half-hour. They will begin every 30 minutes on the hour and half-hour at the exit from Emperor's Hall.
Opening hours:
During the winter half of the year, Emperor's Hall and the observation platform remain closed. They will reopen on April,1st.
Entrance fee:
Adults 6 euros
Children and young persons up to 18 years of age and
persons with disabilities 3 euros
families with several children 15