Call for applications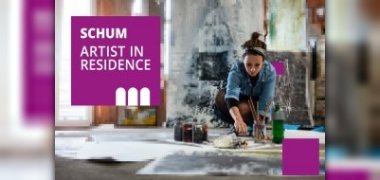 We are offering up to three project fellowships for the realization of an artistic project that addresses the history of the ShUM communities and their religious, cultural, and architectural legacy.
A public presentation of the completed projects (exhibition, concert, reading, performance, etc.) is intended.
Required is an artistic approach to the ShUM legacy, taking into consideration Judaism's ideas, history, and current position.
During their stay, the artistic ShUM fellows are expected to allow interested visitors an insight into their work and concepts in a suitable form, e.g., in workshops or public discussions. Young people and schools will also be invited, and an exchange of ideas with local artists and cultural institutions is desirable.
Events linked to the fellowship are organized in collaboration with the curator of the residency programme and the administration of the cities.
For communication fluent English is required. If possible, the German language will also be used
Artistic Areas

The call for applications is open to professional artists from around the world working in the areas "Visual Arts and Media", "Architecture, Design", "Music" and "Literature".
Time, Place, Benefits
The residency will last for 4 to 6 weeks and is scheduled between mid August and the end of September 2024.
Fellows will work and live in one of the three ShUM cities (Worms, Speyer, or Mainz). Permanent presence during the fellowship is essential.
Fellows are offered a rent-free, furnished apartment, a studio/work room, travel expenses up to €1,000 (tourist class flights and 2nd class train travel, car expenses based on the state travel expenses law (Landesreisekostengesetz), an allowance of € 250 per residency week and a contribution to other expenses (materials or services) of up to € 1,000. Further costs (license rights, purchases of artworks etc.) must be arranged separately.
In addition, the curator and the three cities' respective cultural departments will offer help and advice in realizing the project/s by arranging contact to local artists and cultural institutions, and to government offices, companies, and organizations.
Further information in the tender documents.

Call for proposals
Application documents

Deadline for applications is September 30th, 2023. Applications must be submitted in full by email.
DavidMaier PhD David Maier PhD
Cultural Coordinator of the City of Worms
A committee of five experts, from various artistic disciplines, will decide who will be invited as Artist in Residence for 2024.
The committee's decision is final and incontestable. Applicants will be informed about the results by November 2023.
Review ShUM-Artist in Residence 2021/2022
In 2021, three scholarships were offered for the first time, inviting artists and creatives from different disciplines and with various cultural backgrounds to explore the history, material and spiritual heritage of the three medieval SchUM communities. A top-class jury selected three scholarships from the large number of applications, which arrived from Europe, America, Africa and Asia. These three were asked to develop an artistic project for several weeks in one of the three cities in 2022.
The textile artist Katya Oicherman came from the USA to stay at Worms. Speyer hosted the composer Avery Gosfield, who lives in Italy, and Mainz welcomed the Argentine architect Germán Garcia Morales. The results of these three artists were presented to a broad public in exhibitions, concerts and other events.