Typically Palatine - Hearty Delicacies
When you encounter Palatine taste, you will quickly realize that it is what might be called rustic. This adjective clings stubbornly to the region's cuisine because it is primarily stuffed pig's stomach that has brought the Palatine worldwide notoriety. And we have to admit it is true: many aspects of Palatine cuisine are hearty and pungent, such as homemade sausage, not to mention all the other things you can do with pork. Liver dumplings, black-pudding and bratwurst are menu staples and always arrive with fresh sauerkraut on the side.

In the meantime, even Michelin chefs have treated Palatine cuisine in their own particular ways and have made out of the original products new creations which they serve in their restaurants. The wealth of ideas that pass today for Palatine "haute cuisine" know no bounds. You will be surprised to discover what a fine specialty with a unique blend of aromas can be made out of a hearty dish like stuffed pig's stomach and black-pudding.
The origin of the ingredients, environmentally friendly cultivation, as well as controlled preparation and processing are important components of the Palatine approach to food. Especially when it comes to meat, more and more emphasis is placed on home-grown livestock such as the Glan cattle, a traditionally local breed of cattle that is raised primarily in the open and yields an especially tender cut of beef.
Below you will find selected Palatine dishes in the Palatine dialect, just in case you would like to learn it as a foreign language: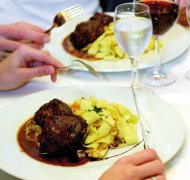 Dampfnudle: A leavened dough specialty, steamed noodles are prepared in a pan which gives them a crisp brown crust. They are served with a sweet vanilla or a tart aromatic wine sauce. 
Flääschknepp: Meat dumplings, prepared from ground pork and beef mixed, it arrives at your table with horseradish sauce. And this sauce is considered to be really good only if it is really sharp. As accompaniment, sour pickles and boiled potatoes are usually served.
Grumbeersupp mit Quetschekuche: Potato soup and plum pie, often dusted with sugar and cinnamon: a genuine Palatine classic!
Keschde: Sweet chestnuts are the shiny brown fruit of the Palatine Forest, nutty and sweet in flavor. They are served peeled as an accompaniment to game dishes, pureed into soup or heated in an oven until the shell bursts. That makes them a delicious between-meal snack.
Kesselfleesch: Meat from the stomach and head of the hog and sometimes the giblets are cooked in their broth in a sausage kettle.
Neie Woi: New wine is the name given to the still fermenting cider that is poured every Fall all along the Wine Street.