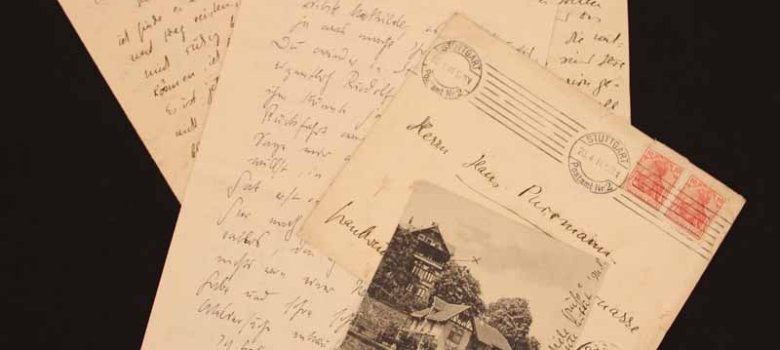 The archives are important sources for the biographies and the works of Hans and Mathilde Purrmann; they were firmly rooted in the widely branched network of the European art world in the first half of the 20th century. The museum cooperates with many museums and other institution in terms of exhibitions, research projects and publications.
Current Research Projects:
Publication of Hans Purrmann's and Mathilde Vollmoeller-Purrmann's letters,
edited by Maria Leitmeyer (Purrmann House in Speyer) and Felix Billeter (Hans Purrmann Archives in Munich)
Catalog of Mathilde Vollmoeller-Purrmann's Works
(paintings, watercolors, drawings, printed graphics), edited by Maria Leitmeyer
Since 2015, the Purrmann House has been providing loans from their collection, information on Mathilde and Hans Purrmann, as well as research contributions to the following projects:
Exhibition, "The Community of German Artists at the Café du Dome in Paris" at the Avant-garde art gallery of Apolda, Germany (Kunsthaus Apolda Avantgarde)
Exhibition, "The Female Painters of Paris. The Awakening of Female German Artists", at the Edwin Scharff Museum in Neu-Ulm, at the Art Gallery of the Jesuit Church in Aschaffenburg and at the Bossard Art Institute in Jesteburg, Germany
Exhibition, "Hans Purrmann (1880-1966). The Colors of the South" in the Beda House in Bitburg, Germany and the Anger Museum in Erfurt, Germany
Exhibition, "The Kruses" — a brilliant family of artists and their circle of friends" at the Small Castle in the Courtyard Garden in Wertheim, Germany and at the Käthe Kruse Puppet Museum in Donauwörth, Germany
International Symposium "Paths to Hans Purrmann – Expression and Color", at the Institute for Art History of the University of Regensburg, Germany and the ensuing publication
Exhibition "Purrmann and Expressionism", at the Buchheim Museum in Bernried, Germany
"Half Wife, Half Artist — Käte Schaller-Härlin and Mathilde Vollmoeller-Purrmann", Exhibition and Exhibition Catalog, Vogelmann Art Gallery in Heilbronn, Germany
Exhibition "Hans Purrmann. The Vitality of Colour", Kunstforeningen GL Strand, Copenhagen, Denmark
"Inspiration Matisse", Art Gallery of Mannheim, Germany
"Hans Purrmann. Colorist of Modernism", Vogelmann Art Gallery in Heilbronn, Germany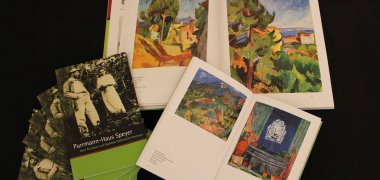 Publications
A series of publications that testify to the active research underway in Purrmann House.
Current:
Longing for Change – A marriage of artists as told in letters 1909-1914. Hans Purrmann and Mathilde Vollmoeller-Purrmann, produced by Felix Billeter (Hans Purrmann Archive Munich) and Maria Leitmeyer (Purrmann House Speyer), with an essay by Peter Kropmanns (Paris) and contributions of the publisher, Deutscher Kunstverlag Berlin/München 2019, 75 letters, 184 pages, 45 images, €14.90, ISBN: 978-3-422-89286-6
Purrmann House Speyer, Works by the married artists, Hans Purrmann and Mathilde Vollmoeller-Purrmann, produced by Purrmann House Speyer, Speyer 2012, € 8.50

Mathilde Vollmoeller-Purrmann (1876–1943). Biography of a Painter, produced by Leisen, Adolf/Leitmeyer, Maria/Vorderstemann, Jürgen, 2nd edition, Speyer 2009, €20.00
Leisen, Adolf; Speyer's Iconoclastic Controversy. The Disputes about Hans Purrmann's Triptych in the Kreistagssaal in Speyer, Speyer 2010, €10.00
Hans Purrmann and Wilhelm Wittmann. Letters 1901-1909, produced by Hans Purrmann Archive in Munich, Berlin/Munich 2013, €14.90
Mathilde Vollmoeller-Purrmann (1876-1943). Berlin-Paris-Berlin, Exhibition Catalog, produced by the Art Forum Foundation of the Berlin Volksbank, Berlin 2010, €14.90
Zimmermann, Eva; The Life's Journey of Hans Purrmann, Berlin 2011, €12.00
Hermann Hesse and Hans Purrmann, Letters 1945-1962, produced by Felix Billeter und Eva Zimmermann, Berlin 2011, €19.80
The publications can be purchased in the Purrmann House or can also be ordered online:   E-Mail