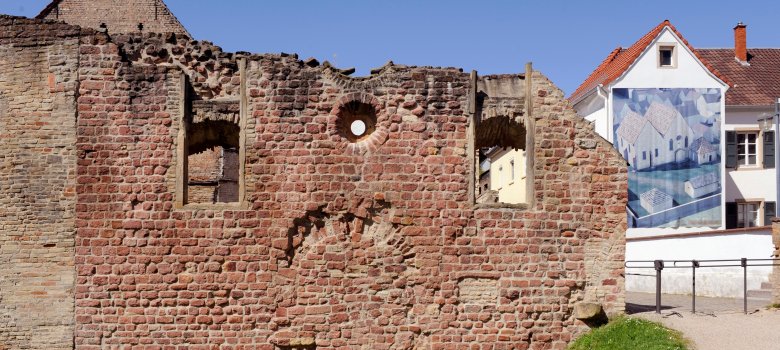 Reopened since 29 May 2020
The ruin of the synagogue is the oldest still standing Jewish place of worship from the Middle Ages in Europe. The Jewish ritual bath was first mentioned in 1126 and has remained almost completely unaltered through the centuries. It is one of the oldest of its kind to still be maintained and is therefore of special culture-historical meaning.
History
Bishop Rüdiger Huzmann settled Jews near the Cathedral in 1084. Bishop and Emperor alike provided them with favorable privileges. The Jewish courtyard became the centerpiece of the settlement ‑ a ritual centre with synagogues for men and women as well as a ritual bath (mikveh). Members of the community were active in long-distance trading and banking and maintained far-reaching economic and cultural connections to Jewish settlements in southern Europe and across the Islamic countries of the Mediterranean to the Near East and Far East. As a result of their cosmopolitan attitudes, their knowledge of foreign publications and languages and their religious erudition, the Jewish community constituted an economic and intellectual elite within the populace.
The Jewish communities of Speyer, Mainz and Worms formed an association under the name of " SchUM", after the first Hebrew letters of those cities. Jews throughout Germany regarded this association as the authority in matters of law and religion.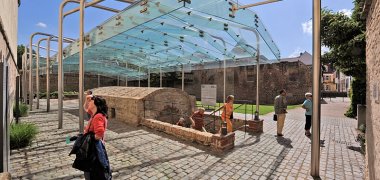 When the pestilence spread through Europe in 1349, Jews everywhere were held responsible; they were pursued, and their iconic sites and homes set on fire. That also happened in Speyer. Some years later, Jews did indeed return to Speyer but their communities never again reached the level of importance they had enjoyed in their heyday. It was not until the 19th century that the number of community members grew once again but antisemitism once again caused many to migrate and emigrate. ln 1939, only 77 Jews were still living in Speyer. Almost all of which fell victim to the holocaust inspired by the National Socialist party. It has only been since the middle of the '90s that there is once again a Jewish community in Speyer. The Jewish religious community of Rhineland-Palatinate, the state of Rhineland-Palatinate and the city of Speyer together built a new synagogue for them between 2008 and 2011 on the foundation of the former St. Guido church.
The synagogue, which was dedicated in 1104, was constructed as a Romanesque hall about 34 feet wide and about 57 feet long. Only the east wall of the building remains.

At almost the same time the synagogue was built, the community built the ritual bath, a so-called mikveh. It was located a short distance from the synagogue and is the oldest installation of its kind in central Europe.