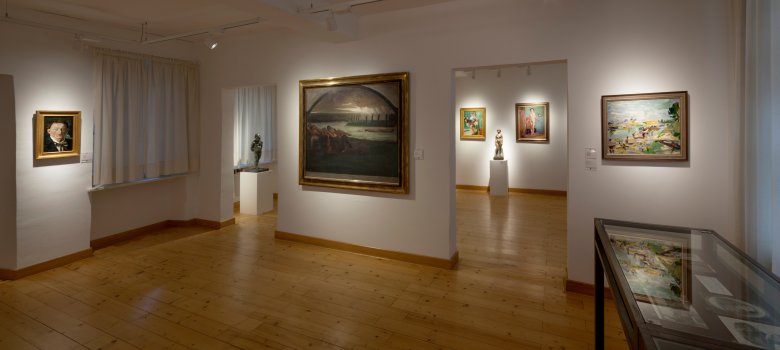 The museum in the home in which Hans Purrmann was born presents around 100 works illustrative of his and his wife's artistic output. The Purrmann House has been set up by the City of Speyer to display the largest public collection of Hans Purrmann's works. Around 70 paintings, watercolors, graphics and sculptures as well as numerous archival records provide an overview of this colorist's achievements, from his earliest works in Speyer to his later works in Montagnola.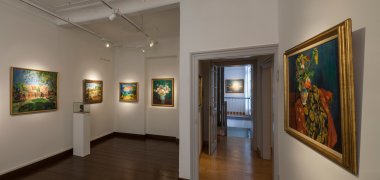 Hans Purrmann was a disciple of Franz von Stuck and a member of the "Berlin Secession". In Paris, he was one of the founding members of the "Matisse Academy". He maintained a lifetime friendship with his teacher, Henri Matisse. Years of artistic success followed in Germany, Italy and in Ticino. Hans Purrmann is regarded as Germany's great colorist of the 20th century.
Mathilde Vollmoeller-Purrmann's life and works are located in their own room in Purrmann House Speyer. For a long time, her body of work was considered to be lost. Only very recently was a large portion of her paintings and watercolors rediscovered; it can be seen today in the Purrmann House. Mathilde Vollmoeller's initial successes were earned in Berlin where she was a disciple of Sabine Lepsius and Leo von König. She reached the peak of her career in Paris in numerous exhibitions and as a follower of Henri Matisse. In Purrmann House, approximately 30 works and numerous documents tell the story of a successful artist and fascinating female icon of the early 20th century.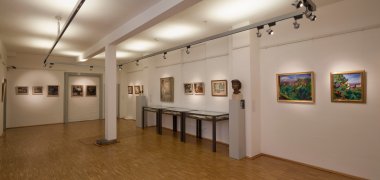 Alongside the permanent collection, the Purrmann House presents changing small-scale exhibitions as well as the "In Focus" series of exhibitions which highlight in no particular order various creative periods and subjects from the museum's permanent collection.
Numerous functions such as the "Sonic Scenes" concert series, special tours for different visitor groups and much more make the museum a living site for cultural exchange.