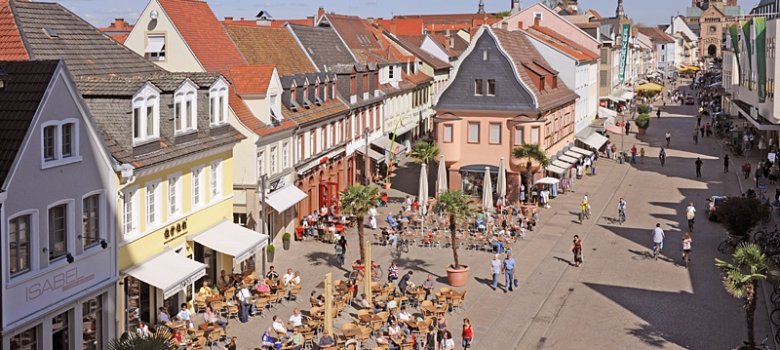 Beautifully restored baroque houses define the character that is the face of Speyer's prominent main street which connects the Imperial Cathedral with the Old City Gate and Tower. No gabled house looks the same as the next while the unicorn head on the roof on the Unicorn Apothecary directs attention to one of the oldest apothecaries in Germany.

In Maximilian Street you have one of the most frequently visited shopping streets in Speyer. Here you will find the large chain stores such as Galeria Kaufhof, Gerry Weber, Esprit and New Yorker. Here also are the nationally recognized Bödeker Shoe Store, Schmitt - Fashion for Men, Fashion Design House Kissel and Fashion Weiss — all of them invite you to window-shop, stroll inside, and perhaps make a purchase.
Housewares Christmann is an institution that is not just for people who live in Speyer. Here you will find dozens of houseware gifts that are original, witty and practical. But even if you are just on the lookout for a souvenir, you are likely to hit pay dirt on Maximilian Street. Anna's Country Outing, a shop for epicures and explorers, offers gifts typical of the Palatinate as well as fine things for decorating and gifting.